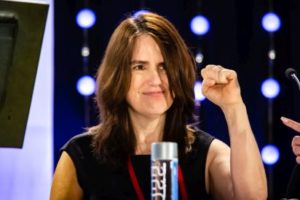 We are pleased to open up nominations for the Amy Walters Patient Lectureship to be awarded at the SNIS Annual Meeting and the ESMINT Annual Congress each year.
Please click HERE to learn more about the Lectureship and for instructions on submitting your patient for consideration.
Amy Walters has worked in the medical device industry since 1991 (Johnson & Johnson, Smith & Nephew, Biosense Webster, MTI, ev3, Sequent Medical, MicroVention-Terumo). During that time, she led efforts in regulatory affairs, clinical research and quality affairs. She has earned recognition and respect for this work all over the world. She collaborated with and taught neurointerventionalists and clinical trialists in both the United States and Europe. She was the architect of both the Onyx approval trial and WEB-IT, which resulted in the first ever FDA PMA approval of a device to go into cerebral aneurysms.
Amy suffered a stroke from the sudden occlusion of her left internal carotid artery while she was present at the 2017 SNIS Annual Meeting. With the support of her family (husband Dave and children Zach and Zoe), she has worked hard at recovery and is now living independently. She is an advocate for stroke and aphasia survivors.
In 2019 to honor Amy, the SNIS Foundation and ESMINT established the Amy Walters Patient Lecture to be given twice a year – once at the SNIS Annual Meeting and once at the ESMINT Annual Congress. The purpose of the Amy Walters Patient Lecture is to remind meeting participants of the central importance of patients and their experience.
SNIS would like to thank the generous supporters of the Amy Walters Patient Lectureship: